Summary:
Esta's parents were murdered. Her life was stolen. And everything she knew about magic was a lie. She thought the Book of Mysteries held the key to freeing the Mageus from the Order's grasp, but the danger within its pages was greater than she ever imagined.
Now the Book's furious power lives inside Harte. If he can't control it, it will rip apart the world to get its revenge, and it will use Esta to do it.
To bind the power, Esta and Harte must track down four elemental stones scattered across the continent. But the world outside the city is like nothing they expected. There are Mageus beyond the Brink not willing to live in the shadows—and the Order isn't alone in its mission to crush them.
In St. Louis, the extravagant World's Fair hides the first stone, but an old enemy is out for revenge and a new enemy is emerging. And back in New York, Viola and Jianyu must defeat a traitor in a city on the verge of chaos.
As past and future collide, time is running out to rewrite history—even for a time-traveling thief.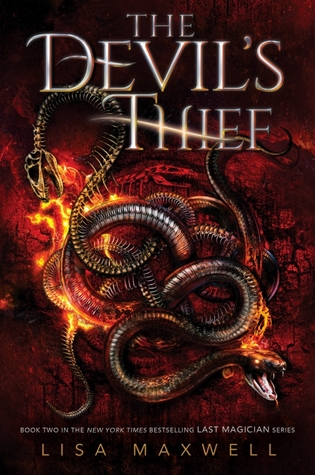 Review:
After reading the first book in this series, The Last Magician, I knew I had found a new favorite. Despite this, it still took me three months to get to The Devil's Thief and I have no idea why.
I was so happy to be back in this world. It was exciting and magical and I loved every minute of it. I really enjoyed all the different perspectives this story is told it. It jumps around between characters and time periods. I thought this was such an interesting way to tell the story. I was just sad to see the gang broken up.
Esta was still a firecracker. I wish we'd gotten to see her travel in time more and use her ability more but she couldn't under the circumstances and it was understandable. Harte was infuriating literally the entire book and that's all I'm going to say about him. Viola was sassy and fierce and mischievous and I cannot wait to see how her story plays out in the end. I loved Cela and Jianyu and mayyyybe I hope we get to see some romance with them.
These characters were the heart of the story and I just adored them all. They're a diverse cast in the sense of ethnicity and sexuality. I love them all so much and I'm so mad at Lisa Maxwell with the way she ended book two.
I also really enjoyed the timeline. Most of this story takes place during the World's Fair and Maxwell doesn't hesitate to have Esta point out all the bad shit that took place there. Though the people of that time period may not think about it, Esta looks around and acknowledges the things that should have been done differently.
Overall, this sequel was a little slow. I still enjoyed it very much. But I was expecting some sort of step toward the resolution of their end goals. Instead they seem to just get themselves into more and more shit. The end up worse off than they were when the story started. I'm really interested to see how Maxwell is going to wrap up all the loose ends in the next book. I'm not sure how many books are supposed to be in the series but I'm already anxiously anticipating the next installment.
Keep on reading lovelies, Amanda.