Summary:
Set in a dangerous near future world, The Book of M tells the captivating story of a group of ordinary people caught in an extraordinary catastrophe who risk everything to save the ones they love. It is a sweeping debut that illuminates the power that memories have not only on the heart, but on the world itself.
One afternoon at an outdoor market in India, a man's shadow disappears—an occurrence science cannot explain. He is only the first. The phenomenon spreads like a plague, and while those afflicted gain a strange new power, it comes at a horrible price: the loss of all their memories.
Ory and his wife Max have escaped the Forgetting so far by hiding in an abandoned hotel deep in the woods. Their new life feels almost normal, until one day Max's shadow disappears too.
Knowing that the more she forgets, the more dangerous she will become to Ory, Max runs away. But Ory refuses to give up the time they have left together. Desperate to find Max before her memory disappears completely, he follows her trail across a perilous, unrecognizable world, braving the threat of roaming bandits, the call to a new war being waged on the ruins of the capital, and the rise of a sinister cult that worships the shadowless.
As they journey, each searches for answers: for Ory, about love, about survival, about hope; and for Max, about a new force growing in the south that may hold the cure.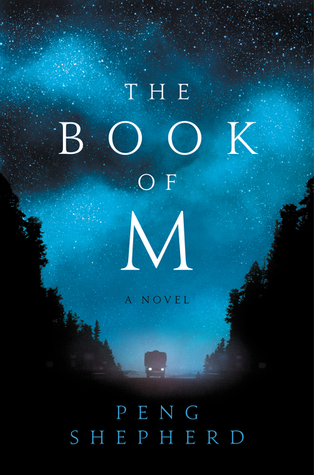 Review:
The Book of M was the book club pick for myself and a few local friends in the month of May. This month was my turn to pick a book and we decided on this one. I'd seen friends really like this book and I usually completely love dystopian/fantasy stories but this one was not my favorite. It's disappointing because I thought this had potential to become a new favorite.
While I liked the story well enough, I have some issues. The first issue was the fact that there didn't seem to be any rules or limitations to this magic aside from the magical acts costing memories. I didn't like this. Magic needs limitations and in this book that did not happen it was wild and confusing and I didn't like it. Part of this is because I wanted there to be a scientific explanation.
I also had an issue with the fact that the first half of the book felt SO. LONG. but then the second half felt really rushed. The pacing was just off. I was interested in the first half but I think there were better things that could have been more explained and other things that could have been less explained. There were character deaths that we only got brief overviews of rather than any actual explanations about what happened and that really bugged me.
Overall, I really wanted to love this book but I just didn't. I wanted it to be different from what I got. I shouldn't have gone into this book with expectations which is what I did. It was an alright book but I didn't love it like I wanted to. But don't let this make you not read it because two of the other girls in book club loved it!
Keep on reading lovelies, Amanda.