Summary:
After what seems like a lifetime of following her father across the globe and through the centuries, Nix has finally taken the helm of their time-traveling ship. Her future—and the horizon—is bright.
Until she learns she is destined to lose the one she loves. To end up like her father: alone, heartbroken.
Unable to face losing Kashmir—best friend, thief, charmer extraordinaire—Nix sails her crew to a mythical utopia to meet a man who promises he can teach her how to manipulate time, to change history. But no place is perfect, not even paradise. And everything is constantly changing on this utopian island, including reality itself.
If Nix can read the ever-shifting tides, perhaps she will finally harness her abilities. Perhaps she can control her destiny, too.
Or perhaps her time will finally run out.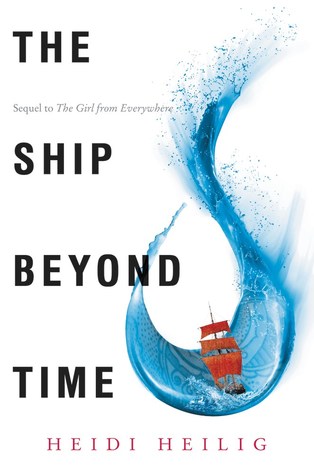 Review:
I read the first book in this series (reviewed here) because I was going to an event where this author was going to be. I am very glad I did read that book because I met the author and she was completely wonderful. She was funny and I just adored meeting her. So, after that event I thought I should probably get this book and read it (as well as all her other books but those will be for their own reviews.)
I adored this book just as much as the first. There were times where I thought to myself that Heidi was really going to do this or that to me and then she turned everything around again much to my pleasure. I love the concept behind the magic in this series. Being 'Navigators' they can travel through time, but only if they really believe in the place that they are going to, as well as having a map of that time and place. I just find time travel in general so compelling, but this method was so unique and interesting to me. I also really enjoyed how the author incorporated a combination or history and mythology. So, the characters visit real places in history as well as places that cannot be proven to have existed. I just loved it.
Next are the characters. I think there's a really interesting father/daughter dynamic here that I appreciate, specifically because I was raised by my father in a single parent home. I really felt like her father wasn't as present as he was in the first book and I think I would have liked just a little bit more insight into his struggles of fighting his addictions for his daughter. Nix was still my favorite. She's fierce, strong, clever, and unapologetic about who she is. She stands up for what she wants and what she thinks is right. She's insanely curious and always trying to learn and I really loved that about her. I also adored her love interest. Kashmir was exactly what I wanted him to be. I'm happy we got chapters from his perspective. I felt like it gave a bit more insight into his character. We learned more about his fears and insecurities and I liked that.
The rest of the supporting characters were as enjoyable as they were in the first book, but we didn't really get any further insight into the familiar characters which I would have liked. Instead, we met new characters and learned all about their struggles and goals.
Overall, this was a great sequel. I enjoyed all of the different aspects of the story and plot. I loved all the dynamics between the characters. Time traveling pirates is all you have to say to me and I'm sold.
Keep on reading lovelies, Amanda.