GoodReads Summary:
Ever since last year's homecoming dance, best friends-turned-best enemies Zorie and Lennon have made an art of avoiding each other. It doesn't hurt that their families are the modern-day Californian version of the Montagues and Capulets.
But when a group camping trip goes south, Zorie and Lennon find themselves stranded in the wilderness. Alone. Together.
What could go wrong?
With no one but each other for company, Zorie and Lennon have no choice but to hash out their issues via witty jabs and insults as they try to make their way to safety. But fighting each other while also fighting off the forces of nature makes getting out of the woods in one piece less and less likely.
And as the two travel deeper into Northern California's rugged backcountry, secrets and hidden feelings surface. But can Zorie and Lennon's rekindled connection survive out in the real world? Or was it just a result of the fresh forest air and the magic of the twinkling stars?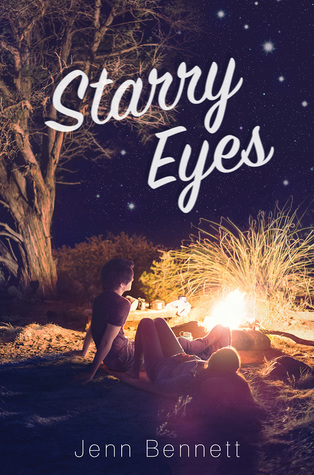 Review:
I don't know why I'm surprised but once again I adore Jenn Bennett's writing. I just enjoy her books so much. They're fun to read and full of characters that are relatable and believable and so easy to love. I have loved everything I've read by this author and I don't know why I keep putting off reading her other books that I already own.
I read Starry Eyes because it fit a prompt for the Magical Readathon. I've been wanting to read it since I first read Alex Approximately. I loved it. I bought a few of her books after that and have been meaning to pick them up.
I adored the characters. Zorie was nerdy and wanting everything she deserved from life. I honestly related to her so much. She wanted to make friends with the popular kids but also wanted to be true to herself and her best friend that wasn't a part of that crowd. All of this while dealing with secrets of her parents that she never should have had to keep. Plus, her hives. Jenn Bennett seems to write about illnesses that I've heard of but don't know much about. So, I feel like I'm learning so much while also being taken on a ride through the story. I think she's doing great things.
I loved Lennon. That's all I'm going to say. Okay, also. He totally reminded me of my husband. The two of them together really just reminded me of my husband and I so much. We were best friends in high school and had a period of time where we didn't talk. And then we got past the drama and now are happily married.
I think I loved this book so much because of how much I was reminded of my own love story. I loved how much I could see myself in the characters. I also adored the setting and the antics they get up to. I think Jenn Bennett is an incredible writer and I'm going to try my best to prioritize thee rest of her books on my TBR.
Keep on reading lovelies, Amanda.