GoodReads Summary:
After everything that the citizens of Beartown have gone through, they are struck yet another blow when they hear that their beloved local hockey team will soon be disbanded. What makes it worse is the obvious satisfaction that all the former Beartown players, who now play for a rival team in Hed, take in that fact. Amidst the mounting tension between the two rivals, a surprising newcomer is handpicked to be Beartown's new hockey coach.
Soon a new team starts to take shape around Amat, the fastest player you'll ever see; Benji, the intense lone wolf; and Vidar, a born-to-be-bad troublemaker. But bringing this team together proves to be a challenge as old bonds are broken, new ones are formed, and the enmity with Hed grows more and more acute.
As the big match approaches, the not-so-innocent pranks and incidents between the communities pile up and their mutual contempt grows deeper. By the time the last game is finally played, a resident of Beartown will be dead, and the people of both towns will be forced to wonder if, after all they've been through, the game they love can ever return to something simple and innocent.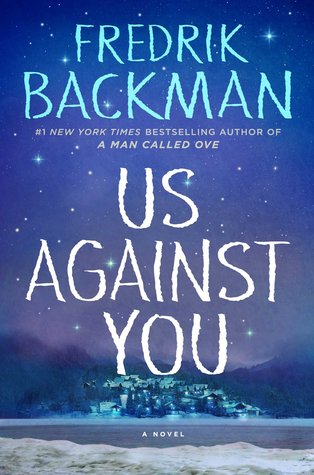 Review:
This book is the sequel to Beartown, read my review for the first book here. I absolutely adored Beartown so when I saw there was a second one I knew I had to read it. It wasn't as good as the first, but it was still very good. I only cried once as opposed to the several times I cried during the first book. Us Against You is just as important of a read as the first one, if not more. This book talks about many important and hard-hitting topics that are often talked around instead of about.
"Because sometimes hating one another is so easy it seems incomprehensible that we ever do anything else."
There are many characters featured in these pages. Many from the first book and a few new ones. Theres no way for me to mention them all. Each character plays an important part in the story, whether they have positive or negative effects on the others. I think the mass number of players in Us Against You are a vital part of the messages that Backman is trying to get across.
"The truth about most people is as simple as it is unbearable: we rarely want what is best for everyone; we mostly want what's best for ourselves."
The book talks about so many things, but the most prevalent theme is violence. Violence is present in any society, in every person, but it takes action and hatred for violence to come to pass. I think it did an incredible job talking about all the different ways that people can become violent, that they can become full of hatred, that they can overcome these feelings. Another important topic discussed is family. There are several families we come to know and learn about. They're all different, all going through their own problems. But in the face of real trauma and loss, they put aside their differences and feelings toward one another and help in whatever ways they can. I thought this story told of a really strong community brought together because of a shared love of hockey. With this shared love, they fight and cheer alongside one another despite personal issues. I really think Backman wrote an incredible story filled with so many important issues from surviving rape, sexuality, alcoholism, loss of a loved one, bullying, and surviving.
"Grief is a wild animal that drags us so far out into the darkness that we can't imagine ever getting home again."
The only complaint I have about Us Against You is that it's kind of a long book to get through. It's almost 500 pages filled with descriptions and explanations. There is a fair bit of telling, alongside the showing the story does have. It's also filled with so many tough topics that it was harder to sit and binge read. The writing style is part of this, though I found myself enjoying the writing style. The author foreshadows, telling of things to come before they happen, while giving us hints of things that may happen in between and then actually telling us what happened. I thought this was a really creative way to tell the story and I think it added just that much more to the story. I definitely think Us Against You wouldn't have been the same book had it been written differently.
"When guys are scared of the dark, they're scared of ghosts and monsters, but when girls are scared of the dark, they're scared of guys."
Overall, I loved this book. There were a few parts that dragged, but I loved it anyway. It's full of characters we love and characters we love to hate. We talk about hard hitting topics instead of shying away from them. It'll make you laugh right before it breaks your heart. I definitely recommend these books to anyone that enjoyed reading about hard-hitting topics.
Keep on reading lovelies, Amanda.