Summary:
Confess if you don't feel safe.
Young women from New York's most exclusive neighborhoods are being murdered, and the polie aren't looking for answers in the right places.
Confess if you don't trust anyone.
Enter Tandy Angel. The first case she nailed was the mystery of her magnificently wealthy parents' deaths. Now she's working to exonerate her superstar brother in his glamorous girlfriend's murder. And danger just got closer.
Confess if you're in too deep.
One of the victims of he recent murder streak was a student at Tandy's own elite school. Shee has a hunch it may be the work of a serial killer, but the NYPD isn't listening to her…and Tandy can't ignore the disturbing fact that she fits the profile of the killer's targets. Can she untangle the mysteries before she becomes the next victim?
The confessions reveal all.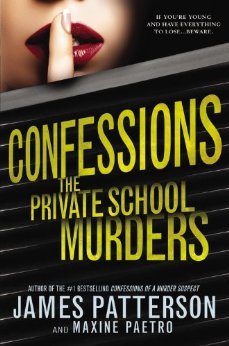 Review:
Confessions the Private School Murders was a book I knew I was going to like before it even came out. Anything by James Patterson is wonderful. This book was exactly what I expected. The plot had the depth I enjoy. There were so many different stories going on at once. The book being written from Tandy's point of view, we got to learn all about her past and the things that she was put through by her crazy parents. This book was very fast paced and had so many different things going on all at the same time. I loved every page.
Tandy was a wonderful main character. She's funny, determined, intelligent, everything you want in a female lead. She doesn't take shit from anyone, well, except her three brothers. She was confident with herself. She knew that if she just worked hard enough, or thought about something enough, she would figure out what was happening. And she wasn't wrong. She once again bettered the NYPD and solved the murder of her brother's girlfriend and unborn child, as well as the murders of the private school girls. I just loved reading about Tandy and her life and I am more than ecstatic that she gets the happy ending she deserves.
The Angel boys were seriously entertaining. The bond these siblings had was wonderful. They stuck together after finding out what their parents had been doing to them all their lives. They would do anything for one another. I just love any book that has a strong family sense to it and this book definitely does. These boys were hilarious on every page.
The last character I'd like to mention is Jacob. I'm going to be kind of vague about him because I don't want to give anything away, but I absolutely adored him. He taught the Angel kids what it's like to have someone actually care about you. Someone that wants you to be careful and wants to know where you're going, who you're with, what you're doing, just because he cares. The kids definitely needed to get used to this new person that cared about them, but I really liked watching them adjust to having an adult that actually cared for their well being. Jacob was definitely my favorite part of this book. And the twist he's involved in! I never even saw it coming.
Confessions, The Private School Murders was a wonderfully written fast paced thriller. It surpassed every expectation I had for this book. The twists were shocking, the characters were wonderful, and when I closed the book I was thoroughly satisfied, which is something I haven't been able to say with some books I've read lately. I suggest this book to anyone who's ever learned how to read. But I definitely think it's aimed toward the older readers. It does have a bit of detailed violence, but what Patterson novel doesn't? So, go to your library or bookstore and get this book and read it. Then let me know what you think!
Keep on reading lovelys, Amanda.